All-in-one, easy-to-use


home care software
Our simple, powerful home care software tools have already helped 100+ care agencies to save time and money, improve care worker happiness, and deliver better quality care.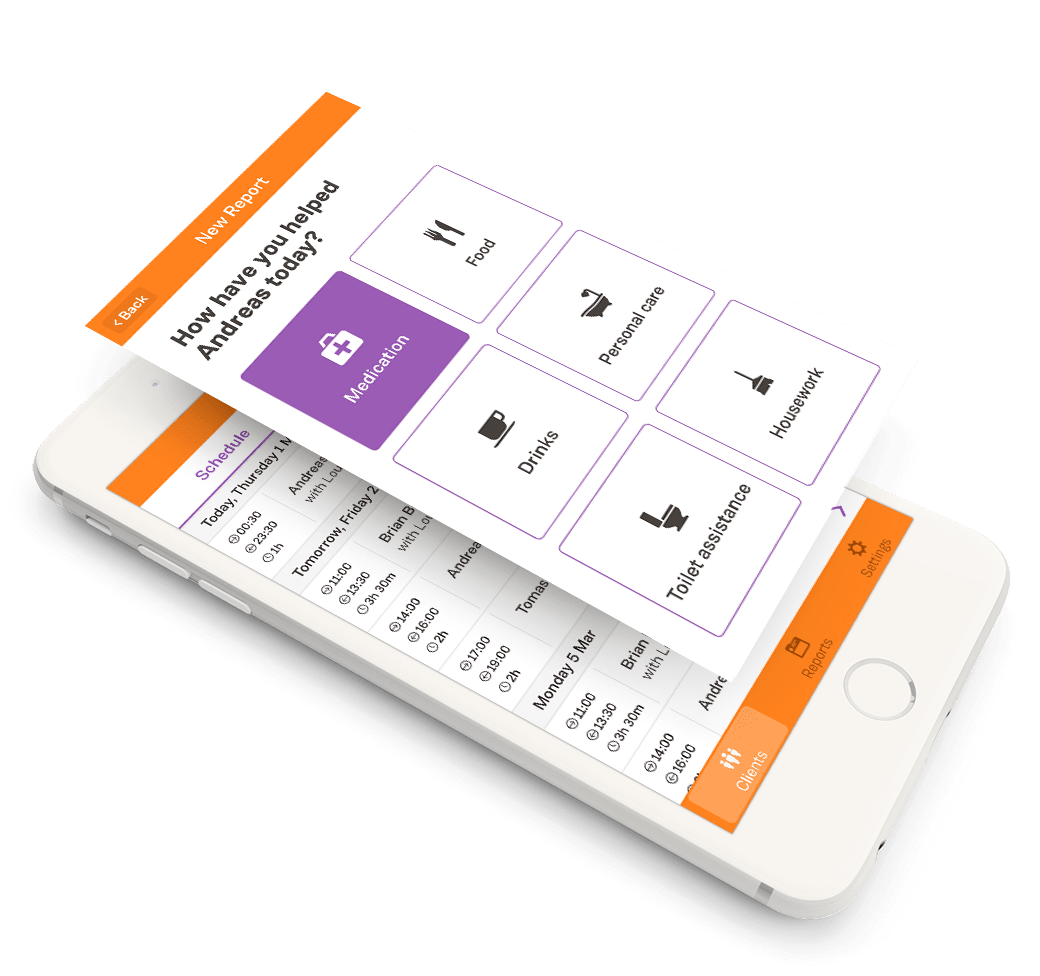 Why choose OnCare?
OnCare's software provides care agencies with the power to plan, manage and enhance care delivery and staff communication. Proven to help care providers improve their CQC and Care Inspectorate ratings, the easy-to-use mobile app and desktop software provides real-time client information and handy tools to reduce admin, avoid errors, and free up more time to deliver outstanding care.

OnCare's care management software tools are incredibly easy to use, and we always try to keep our prices low to help as many providers as possible, from brand new startups to large established agencies.
Care workers
Care agencies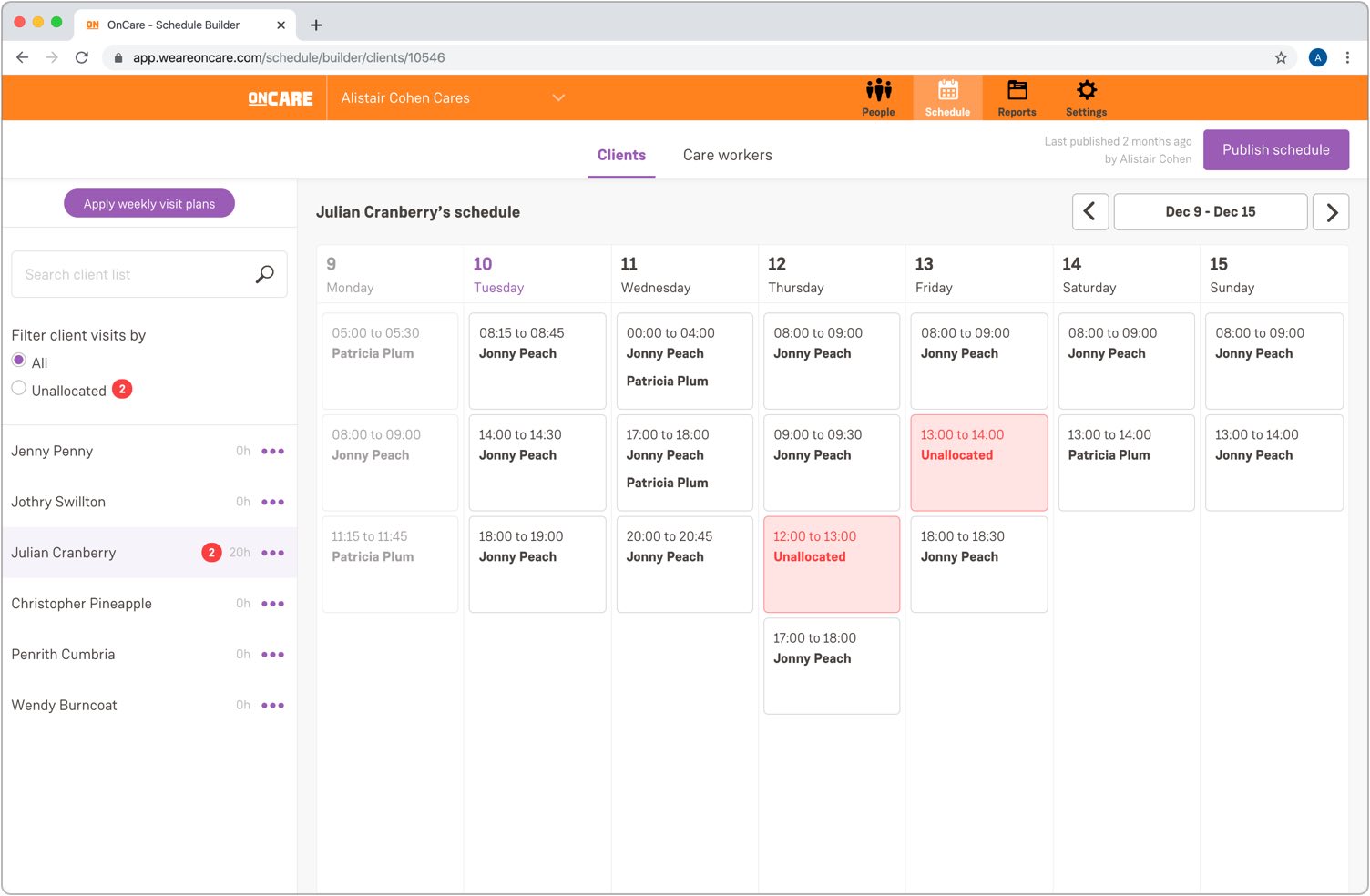 Electronic call monitoring, scheduling, medication management, and finance tools all in one platform
Save time and money by moving to a simple digital system
Improve communication across your team
Achieve higher regulator ratings
Keep staff and data safe
Friends and family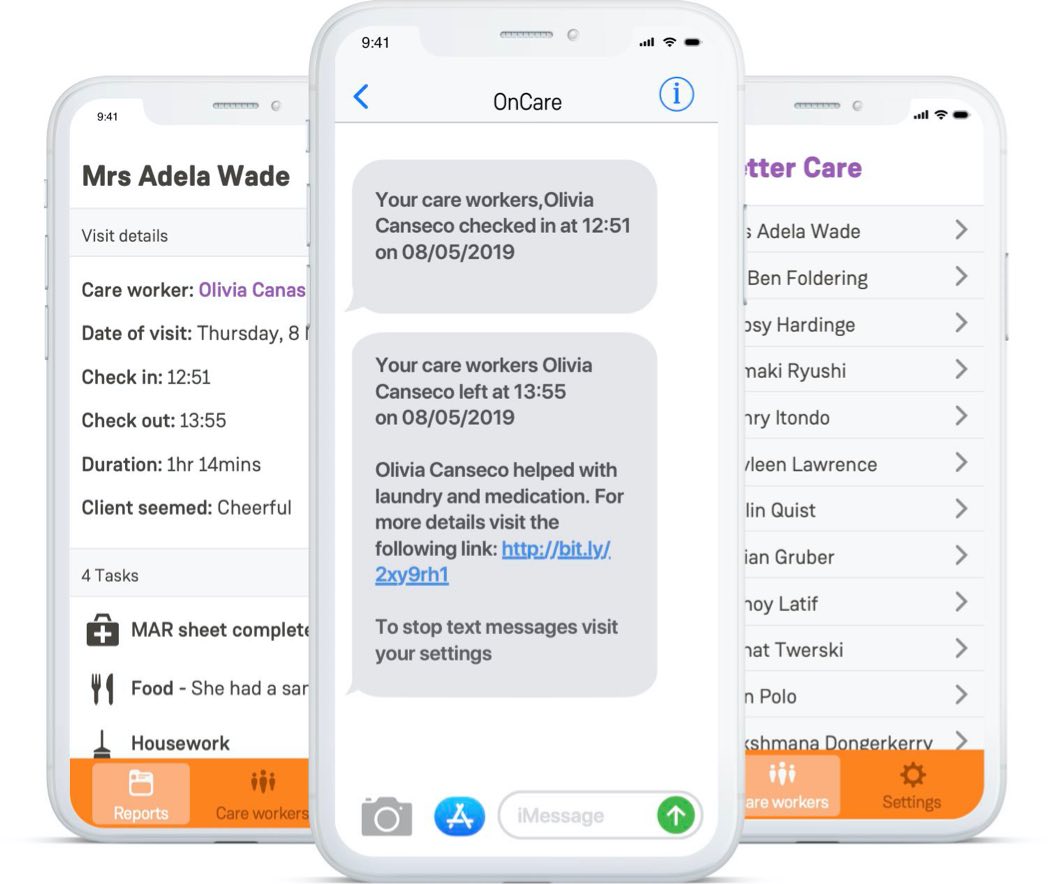 Live updates on each care worker visit
Greater transparency via a secure personal login
Peace of mind that loved ones are being cared for in a respectful and personal way
Watch OnCare in action
Here's how OnCare's agency and care worker tools can help you manage care delivery across your business, save time and save money.
OnCare's Key Features
Just some of the features that our home care software has to offer.
Book a demo to see how it all works.
Trusted by care agencies
Care agencies seeing results with OnCare
The team are spending much less time travelling back to the office just to deliver paperwork, and what's being recorded is far better than what was being recorded before. Head of Adult Services, The Westminster Society
We have seen a large increase in staff productivity as a direct result of the time-saving made whilst completing daily contact notes. Managing Director, Sussex Empowered Living
We cannot tell you enough how impressed Vickie and I am with the app, and what it has done and will do for our business. Registered Manager, Victoria Pook Care Provider
I would highly recommend OnCare to any care provider, it has become a fantastic way to improve our service on many different levels. Manager, Laurel Leaf Support
The OnCare system has been a decisive factor in securing two new clients. We're very impressed! Manager, Complete Care Devon
Thank you OnCare Team. We are pleased with the work and effort you continue to support service providers to deliver safe and person centred care. Service Delivery Manager, ELMS Health Solutions Ltd